Whether you bring us your plan, choose one of ours, or we design one together – we take the time to get to know you and personalize each build with your custom specifications.
Do you want to customize everything about your home? Great – we specialize in custom homes building from the ground up.
Want to build but find the selection process overwhelming? Our semi-custom line may be right for you.
While making the home building process a personalized and memorable journey, we strive to exceed customer expectations and never cut corners on quality.
Only homes with the highest standards in quality can carry the Advantage Custom Builders and Cedarwood Homes name!
If you can DREAM it, together we can DESIGN it – and we'll BUILD it!  Contact Us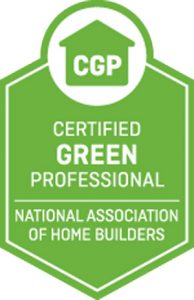 Owner Chad Keune is a Certified Green Professional!
The Certified Green Professional™ designation recognizes builders, remodelers and other industry professionals who incorporate green building principles into homes— without driving up the cost of construction. This certification is awarded by the National Association of Home Builders and requires continuing education in energy efficiency and conservation.
What does that mean for you?
Energy efficiency improvements such as high levels of insulation, efficient HVAC systems, high-performance windows and energy-efficient appliances and lighting
Water conservation measures such as water-efficient appliances and fixtures, filtration systems, and drought resistant or low-maintenance landscaping
Resource conservation using materials and techniques such as engineered wood and wood alternatives, recycled building materials, sustainably harvested lumber, and more durable products
Indoor environmental quality considerations such as effective HVAC equipment, formaldehyde-free finishes, low-allergen materials, and products with minimum off-gassing or low volatile organic compounds (VOCs)Site design planning such as minimizing disruption and preserving open space.